Summer experience on the Tana river
Address: Silbageaidnu 10, 9845 Tana
Date: Wednesday 3 jun 2020 - Monday 30 Aug 2021
Show map
Address: Silbageaidnu 10, 9845 Tana

The Tana river have Northern Norways largest continuous meadows. Are you in to fishing or just want to take a relaxing boat trip on the river, contact us today and we make sure you have a great time.
With us at Tana hotel & Camping, you can join our guide on the great Tana river. You can go Salmon fishing or just enjoy the calm feeling you get when you are out on the river.
Along the Tana river you can see all the great sand meadowes, and amazing nature.
Show more
Book now - choose start date and product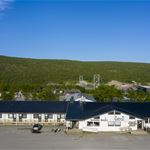 Things to do
Distance: 110 meters
Are you wondering what the family is going to do this holiday this year? How about a 4 day stay at Tana Hotel and camping with fun activities with Tana Husky?