Husky safari
Address: Deanugeaidnu 325, 9845 Tana
Date: Wednesday 3 jun 2020 - Tuesday 3 Jun 2025
Show map
Address: Deanugeaidnu 325, 9845 Tana

Experience the amazing moments of travelling with dogs. The happy dogs eager to start, the silence when you have started and the dogpaws running in the white snow.
We wish you, as a guest, experience with us the best moments of dog sledding. The dogs who look forward to going away, the silence and mood when the sledge slides off white snow, and the paws that tire kilometers after kilometers. The dogs who work in a flock, and the people on the sledding who experience the unity of the dogs.
Show more
Book now - choose start date and product
About this activity
Contact person email
Website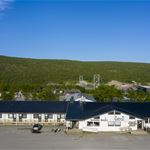 Things to do
Distance: 3.1 km
Are you wondering what the family is going to do this holiday this year? How about a 4 day stay at Tana Hotel and camping with fun activities with Tana Husky?